It's September, 2018 and I am here writing to announce the release of my latest album entitled "Early Dylan Revisited" - a collection of 12 of my favorite Dylan songs from the mid 60's - a prolific time in Dylan's songwriting career. This project started with my interest in attempting an arrangement of "Visions of

Johanna" (the holy grail of songwriting IMHO...) this eventually progressed into arranging and producing another 11 songs and committing myself to putting out an entire album. It turned out to be a very rewarding experience for me - it felt a bit like I was taking a Master Class in Dylan's early writing. Here are a couple of links to the album:
Preview clips & downloads / Stream tracks

I have owned a Squier Bullet Stratocaster for about 3 years now. In addition, I have owned a number of Fender Strats over the years (many I wish I still had!) and have clocked 40+ years as a working guitarist. Currently, in addition to the Squier, I have a Fender American Standard and two custom built models. I purchased my "Bullet" Strat on a whim of curiosity and paid just over $100 for it – of the 4 Strats I own, the Squier gets played the most for the following reasons: 1) it's very light weight (the body is a ¼" thinner than standard and made of a lighter wood) and this makes a huge difference in comfort when playing for hours at a time. 2) the instrument is very acoustically resonate – which means I seldom bother to "plug in" for practice time – thus I don't get distracted with "amp tone" - which helps me to focus on technique and theory application. 3) The fret wire on my particular Bullet appears to be 6230 (vintage style - short & narrow), which is my preference. . . and 4) the guitar was CHEAP! For me this means I don't have to treat it with kid gloves, store it in a case, etc. – if I lost it I'd just buy another one!


Is there a downside? Of course there is… Would I record with this instrument? No – cheap electronics DOES make a difference. Would I gig with this instrument? In most cases, no – once again, cheap electronics are not reliable and generally sound like crap - for example... my Bullet came with an electrical short in the volume pot (which I've not bothered to fix, since I seldom plug it in…) – also, the body has developed a small crack in the finish near the neck joint. But none of this really bothers me for the reasons stated above.


With all of this said, I should mention that I am fairly well experienced at setting up guitars – and this one needed some adjustments fresh out of the box… things like string height (playing action) and intonation (saddle adjustments).


If guitars are your thing, then this is a great time to be alive! The world of guitars has changed considerably since my heyday – today one can find any number of great instruments at ridiculously low prices. My advice? – don't be afraid to purchase something just because it's not expensive enough! Technology has leveled the playing field when it comes to building great instruments at fair prices.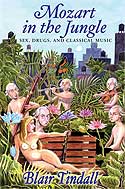 I recently finished reading "Mozart In the Jungle" by Blair Tindall. Having once been a fledgling "student of the oboe" myself many years ago, I was intrigued to hear the inside story from someone who had made it their passion and livelihood. I think this is a "must read" for any music student today - I wish it had been available back during my days of music academia. In addition to providing lots of statistics regarding employment options throughout the history of the music/entertainment business, the book is also simply a good read with an interesting story to tell... highly recommended. Also, of course, there is the current online series available through Amazon Prime that is based on this award-winning book. Whether you're a rocker, classical music purist, or perhaps just a New Yorker - I think you'll enjoy this story.

Back in January of this year I began work on a collection of holiday music entitled "Tierrasanta Holidays" - a set of 12 tracks (all public domain titles) that I arranged and produced as a promotional vehicle for Zooface Music. Recording took approximately 5 weeks, after which time I let the project sit as I moved on to other things. I recently revisited the work, touched up the collection of tracks with a few over-dubs and a bit of basic mastering voodoo, completed the artwork, and sent it off for replication. Here is one of my favorite tracks from the project...
To stream this album, Click Here

I recently ran across the following piece of music from my days in the music department at San Diego State University (circa early 90's). I originally wrote this for classical guitar, but due to my declining skills on that instrument I decided to rearrange the piece for sampled woodwinds - I think it works better as a small assemble piece - see what you think...

February 9th / 1964 - 2014


"It was 50 years ago today that Sergeant Pepper taught the band to play. They've been going in and out of style, but they're guaranteed to raise a smile. So may I introduce to you the act you've known for all these years..."

Well, there could only be one topic up for discussion this month if you happen to be a pop rock musician! 50 years ago on February 9th an event took place here in America that changed the lives of millions of young, future musicians - and their lives would never be the same. I was one of those kids - ripe for the addiction. I couldn't imagine what direction my life would have taken had the music of The Beatles never happened. My first introduction to this new and exciting sound occurred in a "listening booth" at the local record store several months before their arrival at JFK. Even now, when I hear "I Want To Hold Your Hand" I still hear the magic in the sound, the song, the vocals, the guitars - The Beatles had it all - the talent to write great songs, and the musical chops and vocals to deliver. Who would have imagined back then the staying power of their music and the impact it would have on generations to come. Even to this day I am as enthralled with their music as I was back when it all started - I feel blessed to have lived through such a musically exciting time in history - a time that also gave us the rest of the British Invasion, along with The Beach Boys, The Doors, Jimi Hendrix, the list goes on and on. So, hats off to those four lads from Liverpool who started it all, and provided us with such a wonderful soundtrack to our lives!

Aah... a new year! I started this year out writing a bit of "instrumental music" - intended for film/TV. You will find a sampling of these pieces posted back on the Music 4 Media page. I really enjoyed the focus on writing instrumental music - it had been a while. My favorite little bit?... the whip crack in Little Whip of Horrors - a big thanks to the folks at soundsnap.com for prividing that nice bit of foley audio!
AND... just watched Jeff Beck "Live at Ronnie Scott's" - absolutely amazing... I think Beck has taken the stratocaster to places Hendrix would have had he stayed with us. It's quite a performance - Plant and Page are in the audience - Clapton makes an appearance, and Imogen Heap provides a few vocals here and there... the things we humans are capable of when we set our mind to it! Thanks Jeff.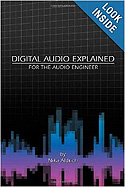 As the year quickly came to a close I found myself spending those final few days deeply immersed in reading about the history, theory and development of digital audio - via a book entitled "Digital Audio Explained for the Audio Engineer" by Nika Aldrich. It's been a tough read in places (I have no math degree!), but extremely interesting and informative from a practical stand point. The text concludes with dispelling the numerous myths surrounding the topic - making perfect sense at every turn of the page - a highly recommended read for anyone interested in the often times confusing and controversial subject. I found it really helpful in regards to my work in the studio.


One of my activities this month involved mixing a song entitled "Catching Up" for singer/lyricist Lyndsey Ollard and her songwriting partner and producer Tom Misner. The multitrack included a great vocal by Lyndsey and some beautiful guitar work complements of Tom and additional guitarist Basel Hallek. The song was tracked at Abbey Road Studios in London, so it was a great opportunity for me to get my hands on a session recorded in their famed Studio 2 - the origin of so many great productions! I really like the song a lot and enjoyed working on it - it has a very 70's vibe, so it was right up my alley. To hear my mix, click on the song title below:


Well... it's December - can't get through this month without producing at least one Christmas carol, so here it is... My best friend, partner and singer, Howard Eskew, wanted to do a rendition of "Away In the Manger" - so that's what we did. Our arrangement blends a bit of the traditional with the contemporary as you will hear. Howard claims all of the vocals - I stake claim to the instrumentation and production. To check it out, click on the song title - Away In a Manger

Other news this month - I recently re-connected with my friend and cousin Susan Laurenzi - another singer/songwriter from LA, via NYC, now living in SD. You can check out Susan's artistry at susanlaurenzi.com, or click the CD cover to jump to itunes.
Happy Holidays!


Early this month I finished up a "tribute production" of a new song by Little Big Town entitled "Leaving In Your Eyes" - this was the first song off of their most recent album (Tornado) that I found myself completely hooked on - wish I had written it! This group is amazing - one of the few I actually follow rather closely - incredible songwriting, vocals, musicianship, production work, etc... I hear constant influences from Fleetwood Mac and The Eagles, thus my interest in their work. My production borrows heavily from theirs - it was a great audio production exercise for me. You can compare the two by following these links:

For Little Big Town's version, click HERE
For my tribute production, click HERE

I spent a good portion of this month researching the merits of analog summing verses digital summing, and I'm convinced it's something I need to seriously consider. Consequently, studio upgrades currently under consideration include the following:



Antelope Orion 32 channel AD/DA converters


Dangerous Music 2Bus LT analog summing mixer


Tonelux OTB16 analog summing mixer


Roll Music Folcrom passive analog summing mixer
If you've had personal experience with any of the gear shown above, I would appreciate hearing your opinion. I am currently leaning toward pairing the Orion converters with the Tonelux box.


In addition to researching analog summing boxes, I also managed to do a bit of music this month - specifically I finished up a rough production of a tune I wrote many years ago but never recorded. The song is about my personal experience with living here in California. I wrote a bridge for the arrangement and produced a rough mix of my ideas. It is currently unfinished, but you can check out what I've done with it so far by clicking on the song title below.


I recently upgraded to Pro Tools 10/11 to get access to the newly improved Avid Eucon protocol and the additional 500 commands that have been recently added. Consequently, I decided to try yet another control surface - this time I went with a combination of the Avid Artist Transport and two Artist Mix fader banks. I have to say that I very quickly have come to rely on the Transport interface - I use it constantly in conjunction with the mouse. It is completely programmable - allowing me to assign frequently used commands to the various knobs, buttons and jog wheel - this has been a great addition to my workflow. The fader banks, on the other hand, I have found less essential to my way of working; though I find myself using them more as time passes. Having worked on analog consoles in my early days of recording, it is nice to be able to grab a fader or two when needed, though I still find myself "drawing" my automation.


The Avid Artist Transport and two Artist Mix units
A real game-changer for me was setting up the Transport Control opposite the mouse (I'm right-handed), so that I could operate both simultaneously - this little ergonomic switch made a huge difference in my workflow. Below is a shot of my current desk with the controllers installed - everything is within easy reach of the sweet spot!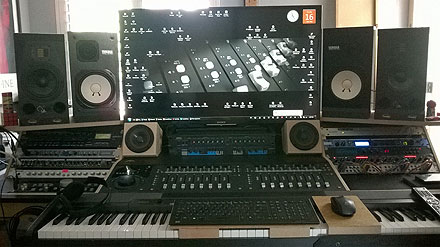 Of the three speaker pairs I have available, the little "horratone" cubes get the most use, followed closely by the NS10s - both have "infinite baffle" cabinets (no bass port) that help prevent time smear. As much as I enjoy listening to the extended frequency range of the A7s, I find them less useful when trying to produce a mix that translates well to other listening environments.
---

Top